TRAVEL TIPS, TOURS & DINING

Below, you'll find additional facts and tips about traveling in Vancouver.
BANKING
Regular banking hours in Canada are 9:00 a.m. to 5:00 p.m., Monday to Friday, with some branches open as early as 8:00 am and as late as 7:00 pm. Most banks are also now open limited hours on Saturdays as well. Visitors who wish to cash cheques or require other banking services are advised to check times of operation with the institutions. Main branches of Canadian chartered banks, particularly in major centres, are equipped to exchange foreign currency as well. Several major European and foreign banks have offices in Vancouver, and will handle some foreign currencies directly.
Most banks have automatic teller machines, which can be accessed 24 hours a day, using bank or credit cards on major international banking networks such as Cirrus, Plus and Interac.
CREDIT CARDS

Most major credit cards are accepted, but visitors are always advised to check with the vendor before a purchase is made. The most commonly accepted cards are Visa, MasterCard and American Express. Cash machines with 24 hour access are available in many convenient locations throughout Greater Vancouver.
CLIMATE
Warmed by Pacific Ocean currents and protected by a range of mountains, Vancouver enjoys mild temperatures year-round. The climate is always hospitable, with daily high temperatures ranging from approximately 15˚ Celsius (60˚ Fahrenheit) in October and slightly lower in November. For more details, check Vancouver Tourism's What to Wear page and view the current weather forecast.
ELECTRICITY
Outlets and voltage (110 volts) are the same as in the United States. Small appliances such as hair dryers, irons, razors, etc. can be used in Canada. For those from other countries, adapters are required for electrical appliances. The frequency of electrical current in Canada is 60 Hz.
DINING
An extensive variety of cuisine is available representing the multicultural flavour of Vancouver. Whether you're looking for a taste of home or a taste of the exotic, fine dining or a casual family-friendly spot, you'll find it. Restaurants, hotel lounges, bars and nightclubs can serve alcoholic beverages if they are "licensed premises." In most cases, you cannot bring your own alcohol into a licensed premises – you have to purchase your drinks from them. Some restaurants may offer a "Bring Your Own" (BYO) option for those that want to enjoy a rare or special bottle of wine with their meal, but most will charge a "corkage" fee to do this, so it's best to check with the restaurant in advance.
You can purchase packaged alcoholic beverages (such as a bottle of wine, or cans of beer) from government-run liquor stores, and licensed private outlets such as specialty wine shops. The legal drinking age in British Columbia is 19 years of age.
See Vancouver Tourism's Dining section to locate restaurants and find out more about the variety of foods and establishments available in Vancouver.
SMOKING LAWS

Within the City of Vancouver, bylaws ban smoking in all indoor public spaces, including public transit, shopping malls, restaurants, pubs, nightclubs and casinos. Smoking is not permitted within 6 metres (19.6 feet) of an entryway, openable window or air intake of a building. In addition, smoking is also banned in all Metro Vancouver parks including on the seawall, in Stanley Park, and on beaches. Signage will be posted to indicate the applicable smoking restrictions.
TIPPING

Most restaurants do not include the tip to your invoice; tipping is at each person's discretion. When dining out at restaurants, a standard tip for good service is between 15 and 20 percent of the total bill. If you are dining in a group of eight or more people, it's standard for a restaurant to automatically add a gratuity of 18 per cent to your bill. Tipping for counter service is not expected. Other services that regularly attract tips are spa treatments, hair and nail services, and taxis—15 per cent is standard in each case.
THINGS TO DO IN VANCOUVER!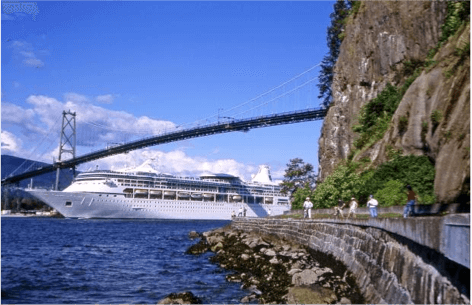 1. Stanley Park is a forested peninsula that's home to native old growth trees like the Douglas Fir and Western Red Cedars. Ringed by a paved trail that snakes along the seawall, you'll get stunning views of the Georgia Straight, Lion's Gate Bridge, and downtown Vancouver. In the middle of the park you'll find the internationally renowned Vancouver Aquarium. http://www.vanaqua.org
2. Grouse Mountain Just across the bridge into North Vancouver you'll find Grouse Mountain, where a gondola will whisk you uphill to a some of the best views of the city. A visitor center, restaurant, and high hiking trails are a few of the things you'll find at the top.
3. Squamish and Whistler Less than an hour north on the Sea-to-Sky highway you'll find Squamish, "the outdoor recreation capital of Canada." Known as a rock climbing and kite boarding paradise, Squamish also has a number of hiking trails accessible within a few kilometers. The Sea to Sky Gondola takes you to the summit for a sweeping view of Howe Sound to enjoy over lunch or a drink. For the less faint of heart, you can cross the suspension bridge or trek into the high back country. Another 30km north is the town of Whistler, one of North America's crown jewel ski resorts.
4. Granville Island Also situated in downtown Vancouver is Granville Island. Accessible by car, street car, ferry, or boat, Granville Island is a top destination for shopping and people watching. At the public market you'll find fresh, local produce, baked goods and seafood, as well as hand-crafted gifts. A network of theaters and galleries offer regular shows and art exhibits. Top it all off with a stop into Granville Island Brewing to sample their original beers.
5. Stroll through Gastown Vancouver's oldest and arguably hippest neighborhood, Gastown boasts a blend of nightlife, high culture and history. The neighborhood is home to some of the city's hottest restaurants and bars and it's said that if you have one night in Vancouver, spend it in Gastown. In Maple Tree Square you'll find a statue of the town's founder, John "Gassy Jack" Deighton. Down the street at the corner of Cambie and Water Street you'll find the neighborhood's most recognizable landmark, the steam clock.